Unlike all you jeep guys, I can't just run to the corner store for a pack of smokes and jeep accessories
....so I was wondering if you guys know of a place locally that can fab something up? I can get one from the US, but shipping that much steel from Arizona gives me nightmares!! Is there a place in QC that builds things (I thought I read that somewhere)?
This is what I am looking at: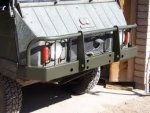 Thanks!
Sent from my iPhone