I started getting my '09 Tacoma ready for the trails, though for a few reasons I decided the drivetrain and suspension would remain stock this summer, this will make wheeling local trails challenging again and make me appreciate the mods next year. So I started with protection and the practical stuff.
First is 31" Duratrac tires, stock size is 30".
I got bare sliders from Trail Gear and painted them with Tremclad Professional.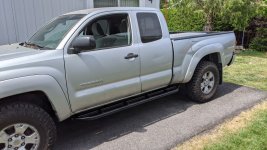 Next up are skid plates that...