So I'm at it again. My last buggy worked out really well for what it was, now it's time to step it up just abit.
Last Buggy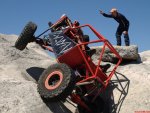 The specs for the new one
Motor - Ford 5.0HO port and polished intake and heads, Ford racing 303 cam, balanced pistons and rods
Trans - Ford C6 full manual valve body reverse shift pattern, 22-2800 stall converter
T-case - Atlas 2 speed 4.3
Axles - Steering spider 9's
chassis - 1.75" DOM will post pics later on
Right now only have the...
Last edited: