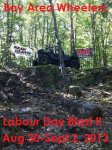 [When] - August 30 at 12:00pm until September 2 at 4:00pm
[Where] - Acme Woods ORV Park - North Bay, ON
!!!REGISTRATION NOW CLOSED!!!
Come Join us for our annual end of summer event!
There will be a $50 fee for non members.
This is a per vehicle fee, It covers all the occupants of the vehicle.
Proceeds going to the North Bay Food Bank.
As always, donations are also being accepted for the
North Bay Food Bank (Cash...
Last edited: