I figured I'd post this repair because I've seen this question brought up a few times before.
A few months back I noticed the faint smell of fuel while standing beside my ol'runner which led me to discover the rotten sending unit lines which led me to discover the lack of an aftermarket replacement part... which led me to a product called "Seal-all" which "repaired" my crusty sending unit until yesterday.
So I decided I'd better fix it properly before blowing my pressure line somewhere other than home.
I dropped the tank and pulled out the crusty unit which after snapping the pressure line off looked like this, (yikes!)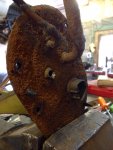 Gave it a quick sand blasting, ground down the nub past the original solder and removed the line,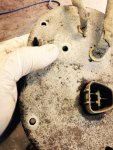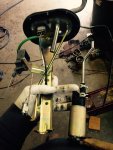 Cut a new piece of 5/16" line and performed half a double flare,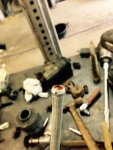 Threaded it through the hole and silver soldered it in place, and repeated the procedure for the rotten 1/4" return line. Unfortunately I didn't have any 5/8" tubing so I just repaired the filler vent tube. The results should last a good while,
Last edited: